| | |
| --- | --- |
| | Click logo for section info. |
What we did.........
A Scout Group is immortal, a constant supply of new members ensures that it forever young. However, this constant turnover of members means that people join, do good deeds in its name and then move on. Lots of Scouting gets done but the history is quickly forgotten. Questions like "where did we come from?" can be hard to answer. Even asking what happened 10 years ago can be an impossible question.
The 1st Hoveton and Wroxham has a long history, but actual paper records are in short supply. We are currently researching the history of the Group and as we find out the information we are adding it to this web page. As we get more, the information will be updated.
We hope you find this history interesting and you enjoy looking at the old photographs. If you have any information which may be able to help us improve our records, please send us an e-mail. Details on our home page.


In the beginning....

BP held his experimental camp in 1907 and his book Scouting For Boys soon followed. This created a wave of enthusiasm for Scouting and many Scout Groups were created over the next few years.

The 1st Wroxham Scout Group was one of these early Groups and it first opened its doors in 1910. Initially, the Troop met at Wroxham Hall which was in the area where Charles Close now stands. The owner, Colonel Charles, was a good friend of BP who was a regular visitor to the Hall. It seems that the two friends often sailed together on Wroxham Broad. BP presented a new flag to the 1st Wroxham Group in person in 1914, perhaps on one of his visits to the Hall.


Jack Parnell shows what the uniform used to look like.

Between the Wars....
The Great War caused considerable disruption to Scouting in Wroxham with many leaders away on war service. However, after the war, the Group resumed normal activities with new leaders and a new location. The new HQ was in Caen Meadow on land owned by Wroxham Council. It was an excellent location next to the River Bure with a slipway for launching boats. The Group leased this land on a yearly basis and the rent was £1.
A key member of the Group in this period was Eric Stevenson, a well known local blacksmith. He eventually became Scout Master and his excellent photograph albums are now in the Group archive showing an active Group with lots of camps and boating activities.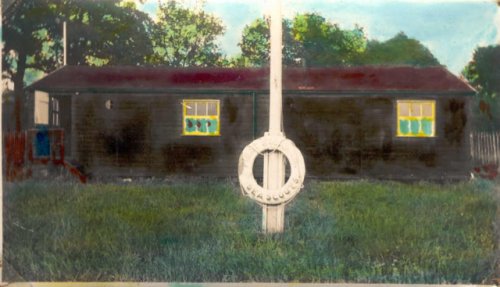 The old HQ in Caen Meadow (hand coloured photograph)


Here are a few events from that period:

1922. H. Lane was SM with 13 Scouts and Mrs Gilbert was CSM with 18 Cubs
1924. The Group camped in the grounds of Harrow School as part of the Wembley Jamboree
1926. North East Norfolk District was formed. Joan Astley was now CSM
1928. 1st Wroxham registered as group number 7390. P Hemingway is now SM and A.E. Hemingway becomes Rover Leader. The Chief Scout awarded the Silver Cross to P.L. Jack Howes for gallantry in attempting to rescue a man from drowning in the River Bure.
1930. Troop attended the City Jamboree and won a Certificate of Merit
1932. Miss D Brooks now CSM
1933. GSM is now Mr S.A. (Rajah) Brooks and SM is J.H. (Tadpole) Braybrooks
1934. Eric Stevenson becomes ASM. Group inspected by BP aboard HMS Implacable (Portsmouth)
1935. Capt H.J. Cator becomes GSM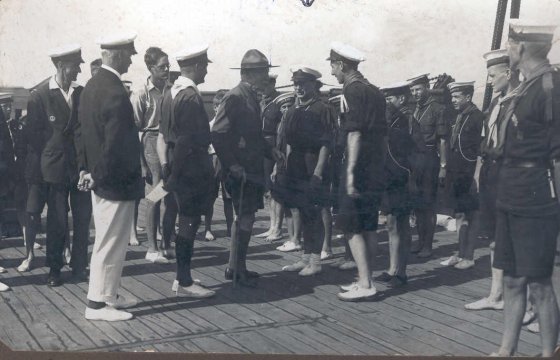 BP inspecting the 1st Wroxham on HMS Implaccable. August 1934
Uncharted Waters.....
The Second World War was another difficult period for Scouting. The 1st Wroxham records show that the Group continued to operate throughout the war but with reduced numbers. The 1st Wroxham supplied people to the Army, Navy, Merchant Navy and Royal Air Force during this period. However, the Group survived and was still operating up to 1948.
For reasons that are not very clear to us now, the 1st Wroxham Group closed down in 1948 and the HQ in Caen meadow was sold.
The Group was re-formed in 1966 by Shirley Ebdell who became Akela and subsequently her husband John Ebdell became Assistant Scout Leader with Graham Noble as SL. The Group adopted the new name of 1st Hoveton and Wroxham which reflected the twin nature of the village. A committee was formed which had a small amount of money available which had come from the sale of the old HQ building in Caen Meadow. From this beginning, a prefabricated building was purchased and placed in the Grounds of Hoveton Village Hall. It was small and not ideal, but it did allow the Group to get going again and soon very good progress was made in all areas of Scouting.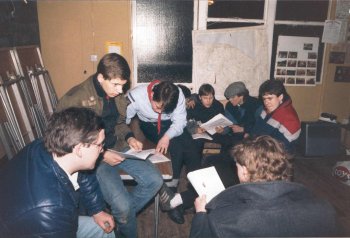 Inside the old HQ in Hoveton
Home of our own

The building in Hoveton was really too small for the Group's needs and there was a time when meetings were actually held in several garages scattered round the village and connected by CB radio. This was an unsatisfactory arrangement, and following an arson attack while the Group was away at camp, it was decided that a new HQ had to be found. Building your own HQ is no small undertaking and it involves a lot of investment of time and effort, not to mention a huge fund raising operation. However, under the guidance of GSL Tony Davey and Chairman Barrie Mortimer, the Group pulled together and in 1988, the 1st Hoveton and Wroxham moved again, this time to its new purpose built HQ in Nobel Crescent Wroxham.
That is where we still meet.


Growth and success

When the new HQ was opened, it opened with it lots more opportunities for a comprehensive Scouting programme. The Group has built on this, and now we have over 100 members and Scouting activities every day of the week.
Scouting may be 100 years old, but its appeal has not diminished. At the start of the 21st century, it has been necessary to open extra sections to deal with the demand for Scouting in the area. 100 years on, the Group has a bright future and is looking forward to many more years of Scouting.


Fred Crane fitting the roof on the new HQ.


If you would like to read more about our history, we have a much more comprehensive history book available in our Downloads Section.

This history was written by Nigel Pope. If you have any comments on it, or you have stories of photographs about your Scouting days with the 1st Hoveton and Wroxham, we would like to hear from you. Our contact details are on our Home Page.